WELCOME TO THE WIDDYWEB!
We hope you enjoy your visit and find what you're looking for. To contact Ann for EU matters or for any other reason, please use the
contact page
.
Search
Enter a word to look for and press the button…
Read Ann in the Daily Express
Catch up with news and views of Ann every Wednesday in her column in the
Daily Express
.
AN IMPORTANT MESSAGE FROM ANN...
From the 1st January 2021 I will no longer be able always to answer individual emails.
I will carefully read everything which you send me but I am no longer either an MP or MEP and have no standing to make representations on your behalf, no matter how much I would like to. If you need assistance with dealing with a local or national body then please contact your own MP.
This does not apply to any correspondence begun before the 1st January 2021 and any ongoing issues will remain live.
I am very sorry to have to take this step but the volume of emails on here, on my Brexit Party site and on my personal site has reached an extent that makes it impossible for a semi-retired person without a fully staffed office to manage individual responses.
I hope that all my correspondents, whether favourable or unfavourable to me, have a very Happy Christmas and that 2021 is an excellent year for them personally.
ON JANUARY 31ST THE UK LEFT THE EU!
Ann therefore ceased to be an MEP. She and other Brexiteers are keeping an eye on the trade negotiations to make sure Boris honours his twin promises of no level playing field and taking back control of our own waters and fishing.
ANN APPOINTED M.E.P. FOR SOUTH WEST REGION
On Wednesday 24th April, Ann announced she would stand as a South West MEP candidate for Nigel Farage's Brexit Party.
She put her retirement on hold to help fire a "very loud warning shot" at the Government over the way Britain's exit from the European Union had been handled.
On the evening of Sunday 26th May, the EU Election votes were counted and announced. The Brexit Party won 29 seats and Ann was one of the winners of the night.
On accepting her new seat as an MEP, she said: "Tonight reaffirms the vote of 2016, because there is only one reason for voting for the Brexit Party and that is if you wanted a Brexit. Therefore we will go forward and achieve that. When we go to Brussels we will say that because of our showing in these elections and the fact that we so clearly speak for the people, we want a role in the negotiations, that is what we will be asking for."
ANN'S GREAT NEW DETECTIVE NOVEL IS OUT NOW!
The Dancing Detective is a traditional detective novel set in contemporary Britain.
When a murder is committed backstage on a popular TV dance competition, no judge or contestant is above suspicion. As events escalate and it seems that the murderer may strike again, the crime-solving efforts of the police are supplemented with those of a mysterious dancing detective in a desperate race to discover whodunit.
Moving between past and present and unearthing long held secrets along the way, this is a case teeming with possible motives and in which nothing is as it first seems.
Buy it at Amazon.co.uk in Paperback and Kindle formats.
SAFE HAVEN FOR DONKEYS - MAY 2014
Ann visits the Safe Haven for Donkeys in the Holy Land and helps a Palestinian vet with a patient! The trip took place this May
If you're interested in donating to Safe Haven For Donkeys in The Holy Land there are a number of ways you can help, please see the official web site.
ANN'S SHORT VISIT TO SWITZERLAND - MAY 2014
Just back from short holiday in Switzerland. Enjoyed seeing the bears of Bern in their lavish new surroundings.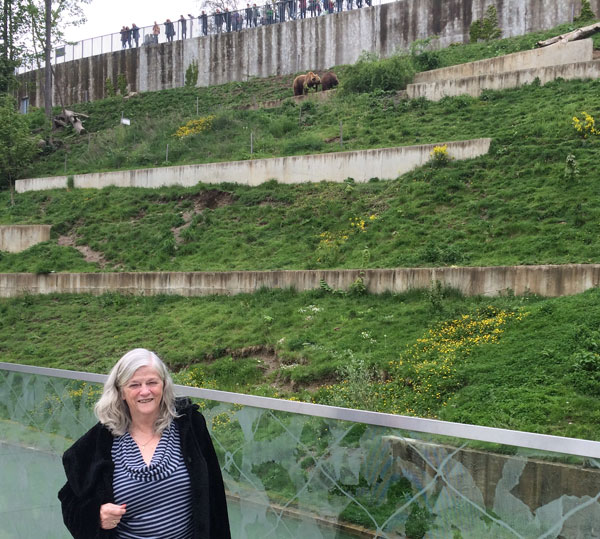 (photo by Hotz-Hart)
ANN'S VISIT TO ETHIOPIA - DECEMBER 2013
Ann is Vice President of The Leprosy Mission and in December went to Ethiopia where nearly 4000 new cases of leprosy were diagnosed in 2012 and which is one of the top 10 countries suffering from leprosy.
Old man in leprosy community too ill to beg, no other income
Close-up - the effects of leprosy if not treated immediately
These men are crippled and blinded by leprosy and take it in turns to be carried to a begging point each day.
Healthy and busy by contrast


If you would like to send a donation to The Leprosy Mission England and Wales the address is Goldhay Way, Orton Goldhay, Peterborough, PE2 5GZ.

For more information about The Leprosy Mission you can visit facebook.com/pages/The-Leprosy-Mission-England-Wales or follow them on Twitter @leprosytalk.
MARRAKECH TRIP SUPPORTING SPANA
Ann has just returned from Morocco where she was supporting SPANA (Society for the Protection of Animals Abroad) in its efforts to secure better treatment for working donkeys and mules and campaigning against the use of monkeys and snakes in tourist attractions.


Seemingly harmless activities harm animals, to get this message Ann posed for the ITV team that was travelling with her, snakes draped around her neck.
Posing with snakes for pictures like this is a popular and seemingly harmless activity for a holidaymaker but the reality for the snake is gruesome. The snakes feed only every few months and are captured when freshly full. Their teeth are then extracted to make them safe for tourists and then when some months later they are hungry again but unable to eat, they are killed.
Likewise the monkeys. Such fun to hold and cuddle. Such a great pic for the album with one sitting on either shoulder. Sadly it is not much fun for the monkeys, the mothers of which are shot to enable the young to be captured and when they are in turn bigger, heavier and less reliable they too are killed.

SPANA's web site can be found here.
STRICTLY ANN - THE AUTOBIOGRAPHY - NOW OUT
Ann's autobiography is now in the shops and on kindle. Humorous and informative it covers her life from her childhood in Singapore through politics to Strictly Come Dancing.
Find out more about the book and where to get it >>
Here's Ann at one of her recent book shop appearances at Waterstones, Maidstone.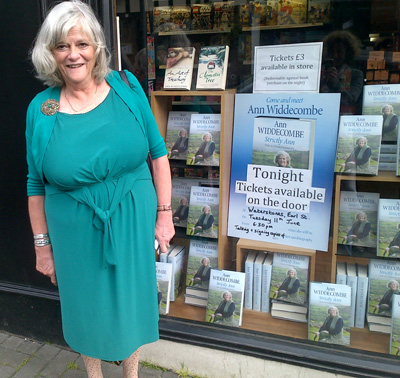 OFF TO VIETNAM
Oops! Arrived at Gatwick and had no English coins for the trolley. A kind family gave me a pound, but resolutely refused to take my fiver in exchange. The fiver has now gone in a charity box and I promised the family that I would put this photo on my website by way of thanks!
DIOCESAN LECTURE
Ann returns to Bath to give diocesan lecture to commemorate first anniversary of papal visit at St John's church
STRICTLY COME DANCING
Strictly has had huge spin-off for Ann.  Earlier this year Ann did the Live Tour and now Ann can truthfully claim to have played Wembley.  She danced with Craig Revel Horwood throughout and he invited her to go in to pantomime with him in December.  Tickets may be obtained from the Orchard Theatre, Dartford, Kent.
 "I spent 10 weeks doing a pantomime in the middle of a dance show so I might as well spend three weeks doing a dance in the middle of a pantomime"
Photo Credit: Professional Images
Ann supports a BUPA initiative to encourage dancing for the elderly.
Ann and Anton supporting the BUPA initiative.
Photo Credit: Professional Images
Ann drawing attention to the plight of the deaf.  Earlier she had joined a party from RNID at Buckingham Palace to present the Duke of Edinburgh with ear muffs to wear while out shooting.  "Get your ears checked" says Ann "with the same regularity you would have your eyes tested".
Photograph © BBC / John Wright
Photograph © BBC / John Wright
Photograph © BBC / Guy Levy

Photograph © BBC / Guy Levy
LIFE ON DARTMOOR
Ann continues to enjoy life on Dartmoor and this is the view from her front window.
BIRMINGHAM HONORARY DOCTORATE
My big event of the year! In July, I was awarded an Honorary from Birmingham Unversity, where I read Latin from 1966-1969. I was fascinated by the changes to the campus and in the style of student living.
This site is the responsibility of Ann Widdecombe.
It is not paid for from public funds.